Education Shelter & Green Roof
How do they work?
Green roofs reduce the amount of stormwater runoff from buildings as water is stored by the roof's substrate and then taken up by the plant roots. Water is then returned to the atmosphere through transpiration and evaporation. Green roofs also help save energy as they act as insulation and reduce the amount of energy needed to moderate the temperature of a building (roofs are the site of the greatest heat loss in the winter and the hottest temperatures in the summer).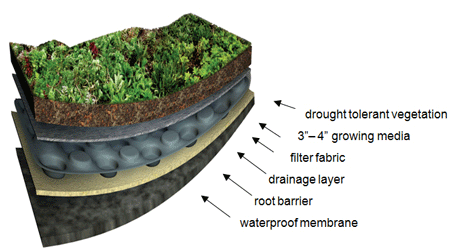 A green roof system is an extension of the existing roof which typically involves a high quality water proofing and root repellant system, a drainage system, filter cloth, a lightweight growing medium and plants (see example diagram above). Green roof systems may be modular, with drainage layers, filter cloth, growing media and plants already prepared in movable, often interlocking grids, or loose laid/ built-up where each component of the system may be installed separately.
To learn more about green roof construction visit: http://www.greenroofs.org/index.php/about/aboutgreenroofs).
Photos of the shelter under construction...