Garden Discovery Camp
The CLDS Garden Discovery Camp is designed to encourage hand's-on study, science exploration, and outdoor recreation within a safe and beautiful garden setting. Watch our page for dates!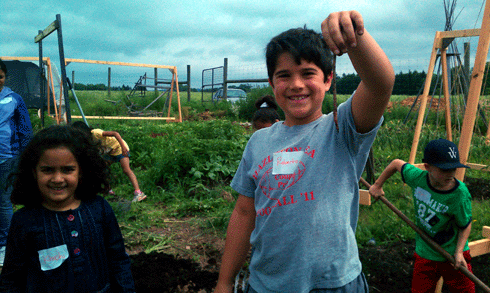 Most activities take place within the Butler Township Human Nature Community Garden in Drums, where the kids will plant and maintain a garden, learn about bees, birds, butterflies, and worms, and get a chance to eat fresh veggies grown in the garden. A field trip may also be scheduled, depending upon enrollment.
Camp registration is accepted on a first-come, first-serve basis. Applications will be accepted until a session is filled (maximum enrollment of 15). Cost is $15/child/day; sibling or second child cost is $10/child). To register download and print this form and mail it back in with your payment.
A Typical Day
The summer camp curriculum integrates educational materials and programs provided by the Penn State Cooperative Extension 4H Program, as well as other environmental curricula developed by the National Gardening Association. A typical day at camp will involve a fast-paced schedule of activities designed to keep kids interested, active, and engaged with nature. Check out our Facebook page to see photos of previous years' activities.
On any given day, activities may include:
Planting seeds
Taking a nature hike
Making herbal sun teas
Transplanting seedlings
Building a worm box
Learning about bees and butterflies
Learning about farm animals
Watching a cooking demonstration
Maintaining a journal
Watering plants
Garden arts & crafts
Feeding chickens
Searching for good and bad garden bugs
Taste-testing veggies grown in the garden
Playing games
Having fun while learning.....
Each day, guest instructors (including Master Gardeners, naturalists, and other experts in their field) will help the kids plant and maintain their gardens and explore the special topics of the day.
What to Bring
Kids should dress for the weather, wear closed-toe shoes or sneakers, and expect to be outside during the entire day. Campers should also expect to get dirty. Every camper should pack a water bottle, sunscreen, and hat. A free lunch may be provided through the Township's summer recreation program.